Councillor Megan McMath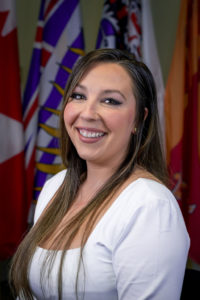 Megan McMath was elected to District of Sooke Council 2018 and re-elected in 2022.
Megan was born in Maple Ridge and has lived in Sooke since she was four years old. She is very proud to be an active member of the Sooke Community. An EMCS graduate and long-time participant in Sooke sports, Megan has played both fastball and soccer since the age of five. When she's not working, volunteering or playing sports, she spends her time coaching U10 girls fastball, fishing and hiking with her 135lb Newfoundland dog 'Ruby'.
A former member of the Sooke Economic Development Group and a current Director of the Capital Region Emergency Service Telecommunications (CREST) board. Megan brings a strong background in tourism, working in the industry for the past 10 years and strives to encourage economic growth in your community.
Council Appointments: 
Capital Region Emergency Services Telecommunications (CREST)
Community Economic Development Committee – Alternate (2021)
Capital Regional District Water Supply Commission – Alternate (2021)
Juan de Fuca Water Distribution Commission – Alternate (2021)
Contact Councillor McMath: