Little River (Demamiel Creek) Pedestrian Crossing
The District of Sooke is currently engaged in planning for a potential new trail connection from the Sunriver/Phillips Road neighborhood to the existing trail systems in the Sooke town centre and nearby schools. The crossing is intended to increase community connectivity and provide a safe link over DeMamiel Creek. Known as "Little River" by the T'Sou-ke Nation, the project will incorporate interpretive signage to educate users on cultural and natural history of the area.
Project Progression to date:
The Parks and Trails Advisory Committee initially recommended the pedestrian crossing at Little River (Demamiel Creek) to Council at the September 12, 2016 Regular Council meeting.
Council set aside funds for a feasibility study in the 2017 budget, and entered into a contract with ISL Engineering to complete the study following the March 12, 2018 Regular Council meeting.
Site analysis and stakeholder consultation were conducted in the spring of 2018, with a summary report presented to Council at the July 9, 2018 Regular Council meeting. At this meeting, Council also authorised the next phase of the project, which was to proceed with partial (50%) design drawings for the crossing.
During the design process, it was determined that a short connection from the existing trail at Woodland Creek, through School District property between Journey Middle School and Poirier Elementary, was needed to ensure pedestrian safety. Staff identified a funding opportunity for the short connector trail through "Bike BC" and requested Council authorization to apply for the grant at the February 11, 2019 Regular Council meeting.
Upon receipt of grant funding, Council authorized staff to proceed with posting of tender documents for construction of the short connector trail, or "Phase One" of the larger Little River (Demamiel Creek) Pedestrian Crossing. Report to Council – Post Tender Documents, September 9, 2019
Council awarded the contract to Ramida Enterprises at the October 28, 2019 Regular Council meeting
Construction is expected to begin in December 2019, with completion of Phase One by March 31, 2020.
Phase One Design Drawings: (click image to open larger file)
Upon completion of Phase One, work will continue with stakeholders and a consulting team to produce partial design drawings, including cost estimates, for Phase Two.
Phase Two will include 600 metres of gravel multi-use trail and a steel-wooden bridge.
Proposed Site Plan for Phase Two: (click image to open larger file)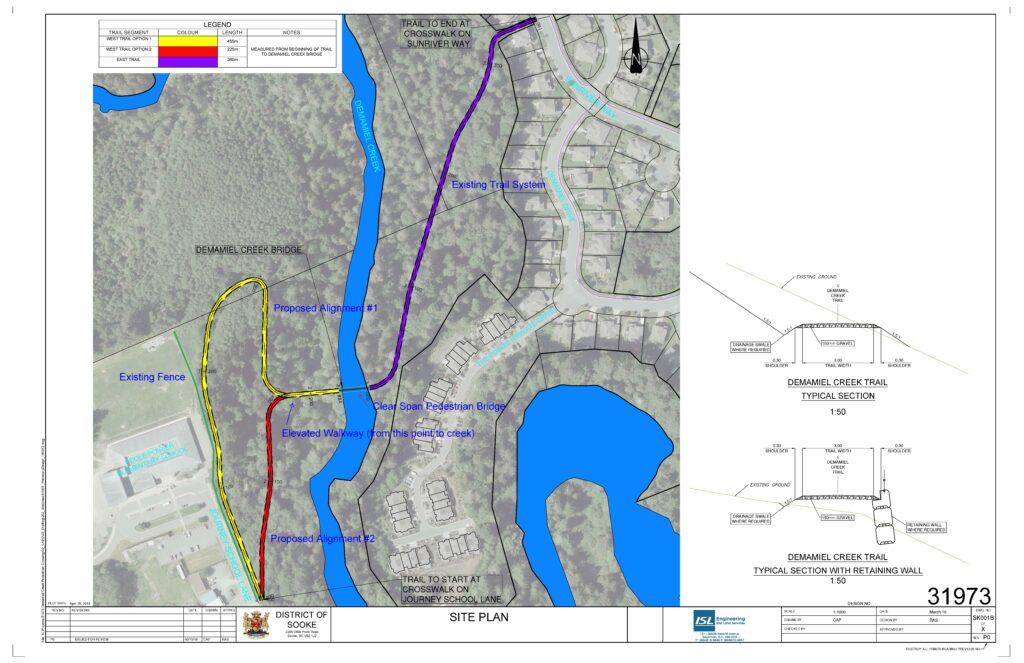 For more information, contact the Parks and Environmental Services department at parks@sooke.ca