Recruitment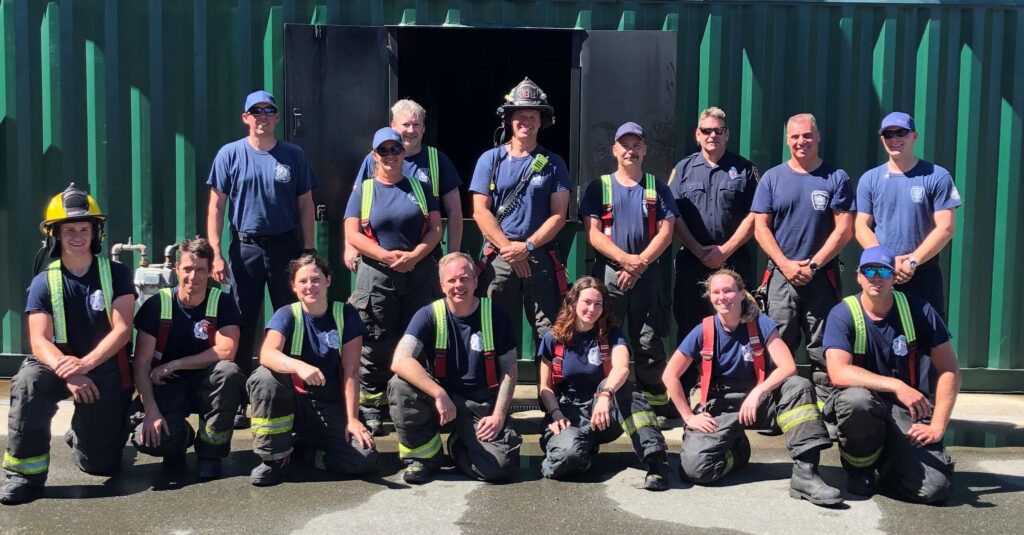 Sooke Fire Rescue is a composite department made up of seven (7) career personnel: Fire Chief, Deputy Fire Chief, two Captains, and three Firefighters. These career members augment the Paid On-Call Firefighters, and the Fire Incident Support Team (FIST).
The Sooke Fire Rescue Department strives to maintain a roster of 45 Paid On-Call members, and welcomes a diverse array of skills and experience to the team. If you enjoy helping people, appreciate continuous learning and are physically fit, we invite you to apply for a position as a Paid On-Call Firefighter. Firefighters must be 18 years old by the time the probationary period commences (can be 17 during recruit training months).
---
Becoming a Paid On-Call Firefighter
Looking to serve your community and be a part of a rewarding team? The District of Sooke hosts a Paid On-Call (POC) Firefighter Recruit Information Session in August each year – and residents of Sooke interested in joining are invited to attend.
The session will provide information about Sooke Fire Rescue Department, the application process, and the recruit school experience.  The opportunity exists to ask questions and meet fellow potential applicants.
The application deadline to apply for the 2023-2024 Recruit Class is September 8, 2023. Application documents include:
criminal record check;
driver's abstract, copy of driver's license (front and back), and;
proof of education (copies of certificates and/or credentials).
The application process involves the submission of a complete application package, an interview, a written aptitude test and an agility test. Once welcomed to the team, Paid On-Call Firefighters benefit from a robust and comprehensive training program that runs throughout the year on Thursday nights, with additional training opportunities offered over weekends as interests and abilities progress. A number of fun activities and team-building events are planned throughout the year that members' families are welcome to participate in.
---
---
Frequently Asked Questions
Learn more and watch the recruiting video here:
Contact:
Sooke Fire Department
Email: fire.recruitment@sooke.ca
Phone: 250.642.5422