Recruitment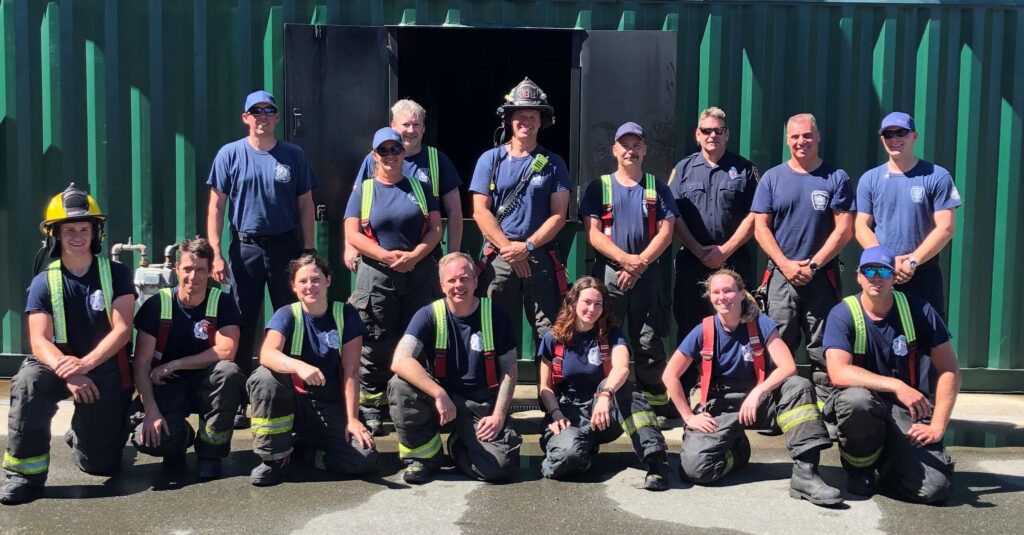 Sooke Fire Rescue is a composite department made up of seven (7) career personnel: Fire Chief, Deputy Fire Chief, two Captains, and three Firefighters. These career members augment the Paid On-Call Firefighters, and the Fire Incident Support Team (FIST).
The Sooke Fire Rescue Department strives to maintain a roster of 45 Paid On-Call members, and welcomes a diverse array of skills and experience to the team. If you enjoy helping people, appreciate continuous learning and are physically fit, we invite you to apply for a position as a Paid On-Call Firefighter. Firefighters must be 18 years old by the time the probationary period commences (can be 17 during recruit training months).
Applications are accepted year-round, with a late September application deadline. Application documents include:
volunteer application form;
criminal record check;
driver's abstract, copy of driver's license (front and back), and;
proof of education (copies of certificates and/or credentials).
The application process involves the submission of a complete application package, an interview, a written aptitude test and an agility test. Once welcomed to the team, Paid On-Call Firefighters benefit from a robust and comprehensive training program that runs throughout the year on Thursday nights, with additional training opportunities offered over weekends as interests and abilities progress. A number of fun activities and team-building events are planned throughout the year that members' families are welcome to participate in.
What are the benefits of being a Paid On-Call Firefighter?
Financial – Paid On-Call compensation based on training levels
Mentorship and leadership development
Skills advancement
Specialized gear and equipment
Health and wellness programs – full access to gym
Service to the community – agency partnerships
Family events and friendships
Complimentary adrenaline boosts
Interested in applying or learning more? We invite you to read the Recruit Newsletters, visit the Paid On-Call Firefighter page to explore the recruitment schedule and download an application package. Set up a face-to-face meeting by contacting fire.recruitment@sooke.ca
---
Congratulations to the Class of 2020!
The Sooke Fire Department welcomed seven new members as the 2020 graduating class – Malcolm Constantine, Carsen Holmquist, Kurtis Horne, Hollie Krutz, Scott McMahan, Michelle Schultz and Erin Topelko. At a small ceremony, our proud firefighters were presented with pins from their family members recognizing this accomplishment of completing the Recruit Program and their Probationary Period.
The department welcomes the seven members of the Class of 2020 and thanks them for their many hours of dedication and hard work over this past year. It has been a challenging journey for these new members as they navigated their training while navigating COVID-19 safety precautions.
Captain Cam Norris-Jones, Lead Training Officer and Lead Instructor, recognizes how the Class of 2020 pivoted in response to the COVIOD-19 pandemic, "this class persevered. They remained motivated and engaged throughout the program. The pandemic put a brief pause on the program, but there was no pause in this team's enthusiasm and dedication to the service. This is a testament to their commitment."