Climate Action
Updated June 28, 2021
Climate change is a complex, multi-year challenge. Addressing climate change means fundamentally re-thinking how we move, what we eat, where our energy comes from, and what a changing climate will mean for life on southern Vancouver Island. Every action and decision has a climate impact – either locally or globally. By inherently applying consideration for the environment, the District is expanding its active transportation corridors, installing EV charging stations, participating in FireSmart initiatives within the CRD (ongoing efforts to achieve wildfire resistant communities), and more. This page is where the District shares progress in response to the declared climate action emergency and related resources, including incentive programs, for residents.
Climate Action Committee
The purpose of the Climate Action Committee is to provide advice to Council and recommend policies that will assist the District to achieve a reduction in all carbon emissions by 40-50%, both corporately and in the community, by 2030. The Committee is comprised of one (1) member of Council to serve as Chair, appointed by the Mayor; and nine (9) community representatives appointed by the Council.
Committee meetings are open to the public. Find Committee meeting agendas and minutes here.
---
Carbon Calculator
Use the Carbon Calculator to find out how many tonnes of greenhouse gases (GHGs) you emit in a year. The lower your GHG emissions, the lower your impact on our planet's climate.
Additional Calculators
---
District putting ACTION into Climate Action
Transportation Master Plan
The Transportation Master Plan (TMP) a long-term guide for the planning, design, and development of transportation facilities and infrastructure. The TMP, approved in October 2020, was prepared in conjunction with the District's Parks and Trails Master Plan (PTMP) and in consideration of many existing plans and policies including BC Transit's concurrent Sooke Local Area Transit Plan. The TMP was developed with the participation of Sooke residents, key community stakeholders, District staff and Council to ensure the plan addresses current transportation issues and reflects community values and interests. Supporting the outcomes for the TMP include Sustainable Transportation (Minimize greenhouse gas emissions and environmental impacts).
Key District Policies (from TMP)
Walking + Rolling
Develop a walking and rolling network that connects neighbourhoods to the Town Centre, schools, recreation, and public transit.
Achieve high-quality pedestrian facilities through frontage improvements associated with land development.
Create active transportation facilities that are comfortable, convenient, safe, and attractive for people of all ages or abilities.
Apply universal design principles on all transportation infrastructure to create an accessible community.
Provide pedestrian support amenities on public and private walking and rolling facilities to enhance safety and comfort.
Cycling
Create a well-connected network of safe and comfortable cycling facilities that appeal to cyclists of all ages and abilities.
Establish an east-west alternative to cycling on Highway 14 as a long-term District priority that connects the Town Centre to the Galloping Goose Regional Trail.
Prioritize cyclist safety in the planning and design of cycling facilities, pursuing physically separated cycling infrastructure where possible.
Provide short-and long-term bicycle parking at public and private cycling destinations.
Provide cycling support facilities (in addition to bike parking) to enhance cyclist comfort.
Public Transit
Pursue coordinated land use planning and improved multi-modal access to/from transit to increase transit ridership and support transit service expansion.
Support transit route changes and service expansion that improve overall transit service provision, as outlined in the Sooke Local Area Transit Plan.
Provide safe, comfortable and accessible bus stops that can be accessed by all transit riders and improve the transit experience.
Support and plan for the relocation of the Town Centre transit exchange to Wadams Way.
Create park-and-rides and mobility hubs along regional transit routes that facilitate multi-modal trip making.
---
Community Environmental Stewardship Programs & Local Organizations
Purple Martin Nest Boxes with Wild Wise Sooke
Purple Martins are a type of insectivore bird whose populations have dangerously decreased. There are concerned citizens working to provide adequate and safe nest locations to these birds in hopes of aiding re-population efforts.
Wild Wise volunteers are working hard to create new nest boxes for two local purple martin colonies AND are creating nest boxes for a brand new colony in Sooke. Wild Wise is hoping to monitor this new "Wild Wise Colony," providing a safe place for these birds to call home while also aiding scientists in important nest monitoring research.
This program has been made possible by Sooke Gutter, who donated all the supplies for this project.
Learn more about purple martins here.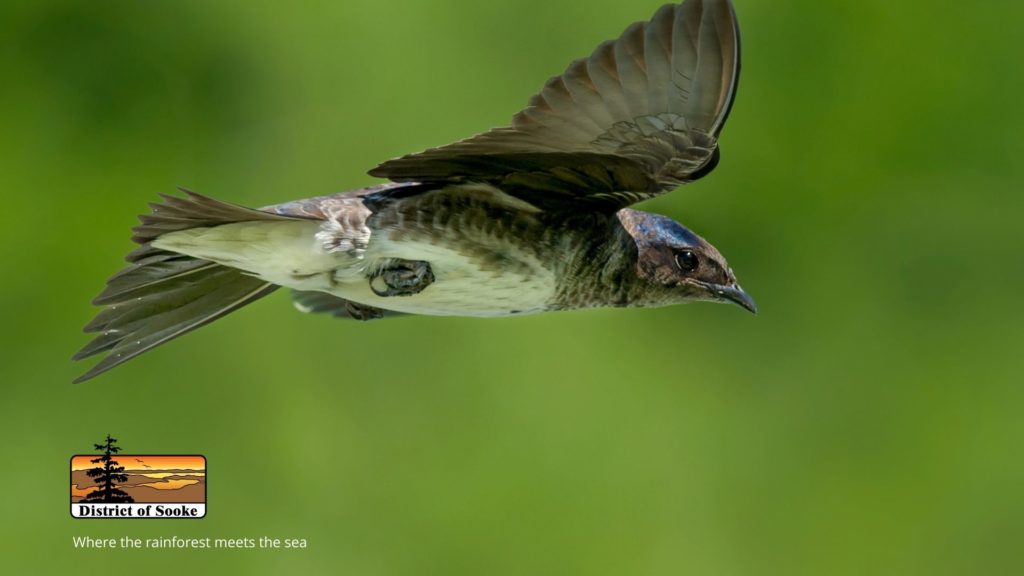 Sooke Garden Club
The Sooke Garden Club was established in 1971 as a means for residents of the Sooke Region to come together to share experiences, learn from experts, and enjoy the camaraderie and benefits to be derived from a common interest in gardening and horticulture. In turn, the Club contributes to the community through monetary donations, gardening-related volunteer work/support, and committee participation.
Membership:  Membership is open to anyone over 12 years of age and costs $15 for the calendar year. People may join the Garden Club at any time during the year.  Membership entitles the cardholder to discounts at various garden centres on the South Island.
Meetings:  Regular meetings are held on the fourth Wednesday of each month from January through May, and from September through November, 7:00-9:00 pm at St. Rose of Lima Catholic Church, 2191 Townsend Road, Sooke.  The November meeting is the Annual General Meeting, followed by the presentation of annual prizes and awards, and a  celebration of the holiday season.
Learn more: sookegardenclub.wordpress.com
---
Resources
Double the Rebate Offer
In response to the COVID-19 pandemic, select CleanBC Better Homes rebates are doubled for a limited time to support the restart of B.C.'s economy and help homeowners save energy.
The Double the Rebate offer has been extended by three months for customers switching from natural gas, propane or oil to an electric heat pump or heat pump water heater. Registration is required. Register for a promo code by March 31, 2021. Once received, your unique promo code can be used to apply for the Double the Rebate offer. Upgrades must be complete and invoiced by June 30, 2021.
Note: Promo code registration is closed for homes currently heated by electricity and homes heated by natural gas who want to upgrade their furnace/boiler.
Free Energy Saving Kit from BC Hydro
If you live in an income-qualified household, you could qualify for a free energy saving kit to help save you energy and make your home more comfortable all year-round.
Each kit includes simple, energy-saving products that you can install yourself. With this kit, you can seal up the drafts around your home, save on lighting costs, and reduce your home's water use too.
The kit contains:
LED bulbs
Weatherstripping to reduce drafts around windows and doors
High efficiency showerheads
Water-saving tap aerators
LED night light
Fridge and freezer thermometer
Step-by-step instruction guide

 [PDF, 3.4 MB]

 to help you install each product
You'll also be able to customize your kit during the online application process, based on the specific needs of your home.
Learn more and apply through BC Hydro.
Ready Step Roll: Active School Travel Planning
Active School Travel Planning… is a school catchment and neighbourhood-based planning process to increase walking and wheeling (bike, scooter, rollerblades, skateboard, wheelchair) or riding the bus to and from school.
The CRD's Ready Step Roll initiative is a comprehensive and sustainable approach to making school-neighbourhoods more walk-able and wheelable, by identifying and addressing safety and social barriers to better support and enable active travel with purpose and confidence.
Parent Advisory Committees, Schools and Local Governments can apply at www.crd.bc.ca/ready
Ready Step Roll: Active School Travel Plans
Facilitated by the CRD, Active School Travel Plans are developed collaboratively with schools, local government and community partners (i.e. local government, province) throughout the Ready Step Roll program.
The final reports summarize the school travel planning process, consultation data and engagement highlights, action plans, plan your route to school maps and encouragement/educational resources for each school that has completed the program.
Sooke Elementary School (2020/21)
Transportation Incentives & Rebates
Active, Public, and Shared Transportation Rebates
SCRAP-IT
Scrap vehicle rebates and incentives for BC Residents. Please visit www.scrapit.ca for detailed current information.
Also includes:
BC Transit Ecopass – 11 month pass ($880 value) valid on the Victoria
Regional Transit System provided by the Clean BC Go Electric Transportation Options Program
Electric Bike Rebate – for the purchase of new and qualifying electric bikes ($1,050) provided by the Clean BC Go Electric Transportation Options Program
Care Share Credit – a $500 credit with specified organizations provided by the Clean BC Go Electric Transportation Options Program
Electric Vehicle (EV) Rebates:
Please visit https://pluginbc.ca/ for detailed current information on incentives, support for first-time EV owners, and public charging stations.
Additional Resources: 
Electric Vehicle Charging Rebates:
Please visit https://pluginbc.ca/ for detailed current information.
---
Progress in Pictures
Click the image to enlarge and scroll through the gallery.
---
Community Energy and Emissions Plan
On October 7, 2013, a workshop was held with staff and stakeholders from the District of Sooke facilitated by BC Hydro and the Community Energy Association. The workshop group looked at the energy and emissions data for their community as a whole and decided on an action plan for the community. The following document provides an overview of the workshop outcomes, and presents a vision for energy reductions. READ MORE >>
---
Climate Action Survey Reports
---
CRD Climate Action
The CRD signed the BC Climate Action Charter in 2008 and, on an ongoing basis, is taking steps to adapt, mitigate and reduce climate change impacts.
In February 2019, the Capital Regional District (CRD) Board identified Climate Action & Environmental Stewardship as a priority for the region and approved a motion to declare a climate emergency. A growing list of cities have joined an international movement to declare a state of emergency regarding the climate crisis, promising to accelerate their climate action efforts to achieve net-zero carbon emissions. The CRD is developing and implementing strategies to address this issue. At the community level, the Regional Climate Action Strategy guides the CRD's services to support community-focused climate mitigation and adaptation action over the next five years.
The Strategy aligns with federal, provincial and regional initiatives to ensure a coordinated approach that identifies all opportunities and maximizes region-wide benefits.
The CRD Board approved the Regional Climate Action Strategy on April 12, 2017.
---
Archived Content
District of Sooke Receives Recognition for Action on 'Climate Change' for Third Year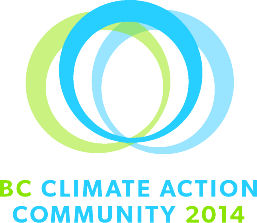 For the third year in a row, the District of Sooke has been recognized by the joint Provincial-Union of BC Municipalities (UBCM) Green Communities Committee as a BC Climate Action Community (2014 Recognition Letter). This recognition is for achieving Level 2 (Measurement) in the Climate Action Recognition Program, the second of three levels in the program.
As a signatory to the Climate Action Charter since 2008, the District of Sooke has demonstrated its commitment to work with the Province and UBCM to take action on climate change and reduce greenhouse gas (GHG) emissions in municipal operations and the community.
The District of Sooke completed a corporate carbon inventory and Climate Action Revenue Incentive Program (CARIP) public report for the 2014 reporting year.  The 2014 CARIP Report highlights the progress and action being made towards reducing those emissions and meeting the District of Sooke's Charter goals. CARIP is a conditional grant program that provides funding to Charter signatories equivalent to 100 percent of the carbon taxes they paid directly. The 2014 CARIP grant was $1,749.42 and was deposited in the Carbon Tax Reserve Fund to help fund future projects aimed at reducing GHG emissions in District of Sooke facilities or the wider community. The CARIP reports are available HERE.
To achieve Level 2 designation, the District of Sooke was also required to demonstrate familiarity with the Community Energy and Emissions Inventory (CEEI). The CEEI for the Township shows energy consumption and GHG emissions from community-wide activities in on-road transportation, buildings and solid waste.
Community Energy and Emissions Plan
On October 14, 2014 the District of Sooke endorsed the Community Energy and Emissions Plan (CEEP) which provides a comprehensive, long-term plan to improve energy efficiency, reduce GHG emissions, and foster local green energy solutions in the community.  The development of the CEEP was facilitated by BC Hydro and the Community Energy Association via the Quickstart Program. The process engaged stakeholder and public input to analyze, rank and plan for future climate-related efforts tailored to Sooke's unique circumstances and to accomplish the goals set out in the District's Official Community Plan (OCP).  A CEEP contributes to a smart community plan, more efficient infrastructure, more livable towns and the protection of the environment—showing leadership on multiple fronts and saving all of us money.
The District is working to implement the top priority objectives of the CEEP, as follows:
Promote home retrofits and demand-side management (DSM) programs to reduce energy consumption,
Improve walking infrastructure (sidewalks connecting central schools), and
Organics diversion from Hartland Landfill.
Climate Action Charter
The District of Sooke passed a resolution on February 12, 2008 agreeing to sign on to the Climate Action Charter. The Charter recognizes the need for action on climate change and the important role that the Provincial Government and local governments can play in promoting change. By signing the charter, local governments are agreeing to develop strategies and take action to achieve the following three goals:
Become carbon neutral in respect to municipal operations by 2012;
Measuring and reporting on the community's GHG emissions profile;
Creating a complete, compact, and more energy-efficient community.
Some of the goals the District agreed to by signing onto the BC Climate Action Charter are:
to develop strategies and take actions aimed at reducing GHG emissions;
to become carbon neutral in respect to municipal operations by 2012;
to remove barriers such as existing policies and procedures that impede taking action on climate change;
to encourage infrastructure and a built environment that supports the economic and social needs of the community while minimizing environmental impacts.
The charter itself does not specify a reduction target for municipal operations; however, the Charter does refer to other commitments that the Province has made which include the target to reduce greenhouse gas (GHG) emissions by 33 percent from 2007 levels by 2020.