Fire-Rescue Department
The Sooke Fire Rescue Department provides a wide range of emergency and non-emergency services to the District of Sooke. You will be able to find information on all of our divisions, Paid On-Call and career opportunities, community relations initiatives, and fire safety on this website. The services provided include:
Fire Suppression
Hazardous Material Response
Technical Rescue
Emergency Medical Services (First Responder)
Inspection and Bylaw / Code Enforcement
Community Relations
The District of Sooke takes great pride in the professionalism and quality service provided by all of our Fire Department career staff and Paid On-Call Firefighters.
Question about recruiting? Email us at fire.recruitment@sooke.ca
---
Mandate
The Sooke Fire Rescue Department effectively and efficiently responds to and mitigates emergencies involving the rescue of persons, incidents of fire, unplanned releases of dangerous goods, and pre-hospital emergency medical incidents. The department strives to provide community-based, customer-focused service to create a safe and comfortable environment for the residents of Sooke. We protect the District's tax base and support economic development through extensive inspection, prevention, and enforcement programs. As well, education programs are aimed at eliminating fire and safety hazards in the home and workplace. Members of the Sooke Fire Rescue Department pride themselves on providing a very progressive service to residents in Sooke and the surrounding areas.
---
Who Are We?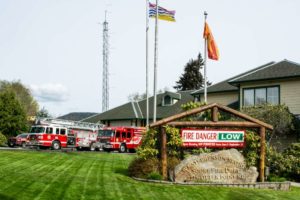 From its humble beginnings in the early 1900's, the old Sooke Harbour Fire Department has evolved into a modern, full-service emergency services organization. Beginning with a hand drawn hose reel stored in an old shed, the fire department now operates from two well-equipped fire stations. The dedicated men and women of the Sooke Fire Rescue Department are prepared to answer the alarm at any time – day or night. Supported by seven career members, and Paid On-Call Firefighters, the organization is comprised of between 35-45 active members in two divisions. Utilizing the latest in fire apparatus design and technology, along with a variety of support vehicles and equipment trailers, there is no call too large or small for the department to handle. Protecting approximately 14,000 people, spread over an area of 65 square kilometers means this department responds to 1,000+ incidents annually.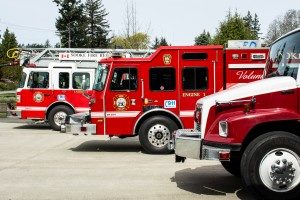 To handle all of these emergency incidents requires that members of the fire department constantly train and update their skills. While many of our firefighters have been around for several years and are very knowledgeable in their skills and abilities, there is always a need and desire to recruit new members to the organization. With growth and development in the community, recruitment and retention of Paid On-Call Firefighters will continue to be a priority for the District of Sooke. Contact Email us at fire.recruitment@sooke.ca today and discover what it takes to become a Paid On-Call Firefighter.
---
Updates
Thursday, January 14, 2021 – New frontline engine placed into service.
The long-awaited arrival of our newest apparatus is here!
Engine 1 was officially placed into service on January 7th, with the ceremonial transfer of water from the outgoing apparatus to the new engine by Deputy Chief Barney and Fire Fighter Sutherland. SFRD members were unable to attend the ceremony due to COVID-19 restrictions on gathering, but Captain McCrea made sure the event was recorded so everyone could watch.
Since arrival in late October 2020, the new apparatus has been tested, adjusted, and trained on in preparation for use. Many hours have been spent readying the details like cabinet layouts, radio installations, and hose load tests. Crews have spent countless hours training to know this new workhorse as well as they knew their old one.
Engine 1 made its maiden voyage on January 9th to an emergency medical call, crewed by Capt. McCrea, Lt. Hester, and FF Sutherland. With the new apparatus moving into a frontline bay, the remainder of the fleet has experienced movement as well. The former Engine 1 (SK 204) is now in service at Station 2 as Engine 2. The former Engine 2 (SK 205) will return to Station 1 as the reserve engine and current Engine 3 will be sold off.