The Sooke Fire Rescue Department
Drive-By Birthday Program is no longer accepting registrations.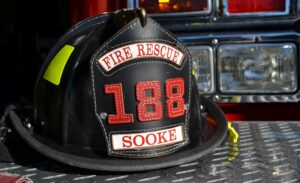 Know someone under 12 or over 75 who needs help celebrating a birthday during these times of social distancing?
Celebrate with lights and sirens!
Sooke Fire Rescue Department is accepting requests to drive past local homes and recognize that special day.
Submit a request below and you'll be contacted by Sooke Fire Rescue Department approximately 7-10 days before the scheduled date to confirm details of the visit. The program is not accepting any further registrations. 
By hitting Submit, I give my consent to the District of Sooke for the use and disclosure of my personal information outside of Canada via their website platform to GoDaddy a company headquartered outside of Canada. The purpose of the disclosure is to facilitate a drive-by birthday program initiated by the Sooke Fire Department at my request. I understand that GoDaddy does collect temporary and passive data for the use of trend analytics as per their privacy policy.
This consent is effective with respect to this service request only.
*Please note that emergency response is the primary priority for Sooke Fire Rescue Department.
Drive by birthdays cannot be guaranteed and are subject to crew availability.