2019 Sooke Santa Run – December 14th at Dusk
The 26th annual "Santa Run" will take place on Saturday, December 14th starting at dusk (5ish). Presented by the Sooke Firefighter's Association and IAFF Local 4841, the annual Santa Run is a well-loved holiday tradition in Sooke. Thanks to the collaborative efforts of firefighters from the District of Sooke, Otter Point and East Sooke, much-needed cash and food donations are collected in support of the Sooke Christmas Bureau and local families in need.
Decorated with bright and colourful Christmas lights and playing festive holiday music, four trucks loaded with Santa and helpers will be driving through neighbourhoods to collect cash and food donations.  The support of the community is appreciated. This event is the capstone of the firefighters annual Fill-a-Fire-Truck campaign. Volunteers will also be collecting cash and food donations in advance – look (and listen) for them at Village Foods, Western Foods and Shopper's Drug Mart. Last year, over $100,000 worth of food and cash were donated by caring residents.
How to participate:
Watch for your bag – AND REVIEW YOUR ROUTE – delivered to homes in the town core by carriers of the Sooke News Mirror – and usual mail outlet drop boxes.
Check out the four routes on the bag and determine closest location to you.
Place non-perishable donations in the bag.
Listen for the music and look for the firetruck sirens and lights.
Meet Santa en route with your donation bag.
Donations can also be dropped off at the Sooke Fire Hall at 2225 Otter Point Road. Maps of each Route are listed below. Click on 'Santa Run' image to view one map of all four routes – individual route maps listed below.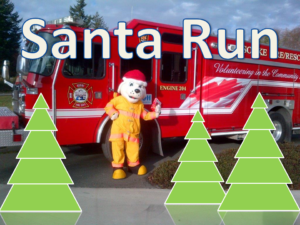 (Click on each route to go to the individual maps)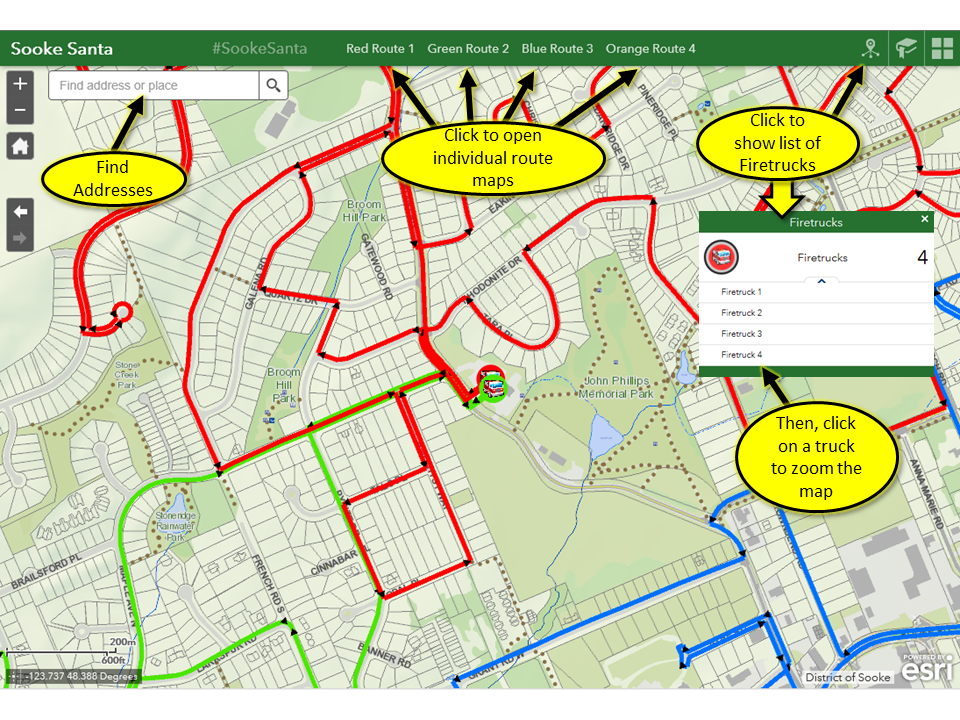 2019 Sooke Santa Parade – "Sooke Lights Up For Santa"
Hosted by the Sooke Lions Club, all residents of Sooke are welcome to celebrate the holiday spirit. With this year's theme, the community is asked to bring their lights, wear flashing Christmas jewelry, carry glow sticks and flashlights. Lighting up the sides of the street for the parade.
The Sooke Santa parade is being held on Sunday, December 1, 2019, starting at 5:00 pm.  The parade route will start at Sooke Elementary, along Sooke Road, ending at and turning right onto Townsend Road.
If you would like to participate in the parade please review and complete the following: 2019 Sooke Parade Application