Legalization of Recreational Cannabis

The use of cannabis (marijuana) for recreational purposes is now legal across Canada, as per the Cannabis Act (Bill C-45). Individuals 19 or over are now allowed to possess and share up to 30 grams of dried cannabis or equivalent in non-dried form, grow up to four plants per household, and make food and drink products containing cannabis at home.
In British Columbia cannabis will be sold through a combination of public, and privately-run retail stores. All applications for Cannabis Retail Stores must be approved by the Provincial Liquor & Cannabis Regulation Branch. As part of this approval process applications are referred to the District, which must provide a positive recommendation for an application to proceed. At this point Council has directed staff to add "Cannabis Retail Store" as a definition in Bylaw No. 600, Sooke Zoning Bylaw, 2013, and to add this as a permitted use under the C2 General Commercial Zone (restricted to the legal properties of the three existing stores). Zoning Amendment Bylaw No. 730 was given 1st and 2nd reading at the February 25 Council meeting (report can be found here). A public hearing will be scheduled soon.
All commercial recreational cannabis production facilities in the District of Sooke must be approved and licensed by Health Canada. In addition to complying with all applicable municipal bylaws (i.e. zoning), cannabis production within the Agricultural Land Reserve must be grown in a soil base, as per section 2.5 of the Agricultural Land Reserve Use, Subdivision and Procedure Regulation. The Government of Canada has established a licensing framework, with health, safety, and security standards for cannabis production at different scales.  Applicants must notify the District and local RCMP of their intent to obtain a license, the license type, and the location of their proposed facility prior to applying for a license from the Federal Government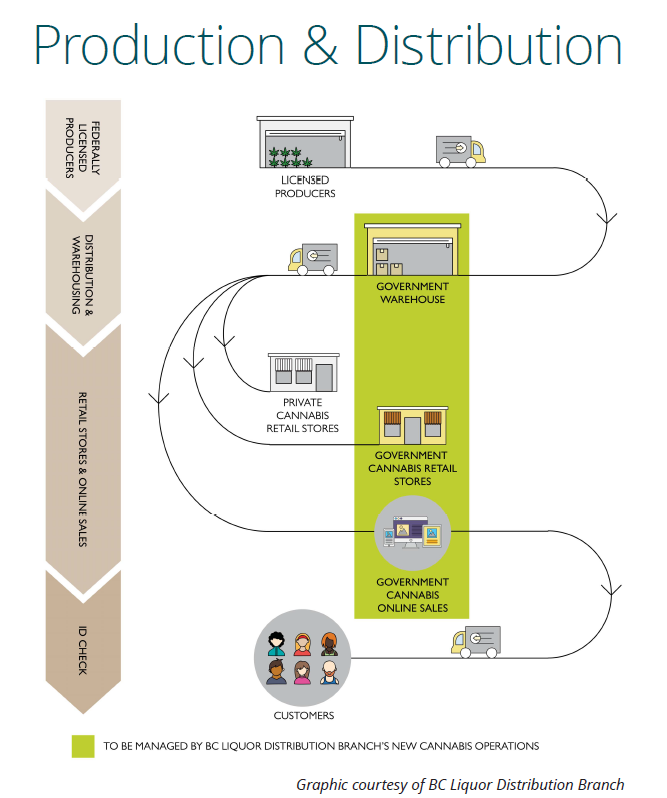 The District of Sooke is currently determining how it will address the changes brought about by the legalization of recreational cannabis, particularly the implications of retail stores, production facilities, and public consumption. A Report for Information was brought forward to Council on November 26, 2018 and can be read here. This was then followed by a report for Committee of the Whole, concerning Cannabis Retail Stores. This report can be read here.
In the meantime, if you have any questions/comments about the District's approach to recreational cannabis, please contact Nicholas Deibler, Planner 1, at ndeibler@sooke.ca
Estimated Timeline:
1. Report to Council for direction (November 26, 2018)
2. Targeted stakeholder engagement (Early 2019)
3. Report to Committee of the Whole discussing policy options related to Cannabis Retail Stores (January 21, 2019)
4. 1st and 2nd reading of Zoning Amendment Bylaw No. 730 to amend the Sooke Zoning Bylaw to include a new definition for Cannabis Retail Stores, and to add the new use to the C2 Commercial Zone (February 25, 2019)
5. Estimated date for public hearing for Bylaw No. 730 (March  2019)