Public Boat Launch
The District of Sooke public boat launch is located at 6933 West Coast Road and has 21 spaces available on a first-come, first-served basis.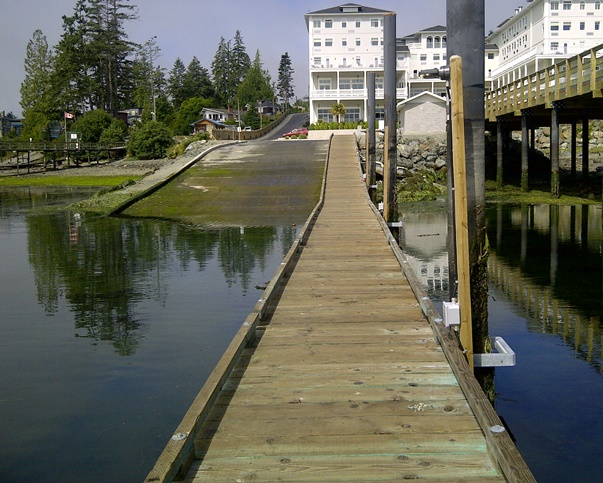 ---
Boat Launch & Parking Fee
Robbins Parking manages parking at the District of Sooke Boat Launch. The machine is located to the left of the ramp, at the end of the utility building.
The pay station takes cash and credit card. Instructions on how to process payments are located on the front of the machine. All users must purchase a ticket and display it on their dash.
In addition to the $10 launch/park ticket, the machine also sells hourly parking and the resident/non-resident annual passes (purchasers receive a ticket they can bring to the municipal hall to exchange for the actual pass decal). Resident passes are $60/year; non-resident passes are $120/year.
---
Parking Payment Notices
Robbins Parking offers a number of options to pay or appeal a Payment Notice.
Paying a Parking Notice:
Click here to pay online.

If you are paying online, please enter your license plate without any extra characters. Only letters and numbers are valid.
If you are paying for a handwritten notice beginning with H or S then sometimes it takes a couple of business days to be entered into our system. When the notice has been entered it will be the original/reduced value, and the 72 hours will begin once it has been entered. Please call the Robins Parking office if you need assistance.

By mail to: Robbins Parking Service Ltd., PO Box 427 Victoria Stn CSC, Victoria, BC V8W 2N8

Payment Types: cheque, money order (payable to Robbins Parking Service)
DO NOT MAIL CASH. THE PAYMENT NOTICE MUST ACCOMPANY YOUR PAYMENT.

By phone through the Victoria Office 250-382-4439 OR Toll-free: 1-866-382-4439

Payment by phone can be completed Monday to Friday, 8AM to 4PM
Payment Types: Visa, MasterCard, Amex
Robbins Parking Contact:
Victoria Office 250-382-4439
Toll-free: 1-866-382-4439