Updated February 18, 2022
Wildfire Prevention
British Columbia has experienced one of the driest and most active wildfire seasons on record. The climate change emergency, higher temperatures and drought conditions are all leading causes of aggressive fire behaviour and longer wildfire seasons.
Preparing for the threat of wildfire is a shared responsibility. From homeowners to businesses and government we all have the responsibility to reduce the impacts of wildfire within our community.
---
What We Heard: FireSmart Program Community Consultation (Fall 2021)
Thanks to the funding from the Union of British Columbia Municipalities and their FireSmart Economic Recovery Fund grant, the District of Sooke is developing a FireSmart program. From October 15 to November 7, 2021 we asked residents how we can best assist them in becoming more FireSmart. Read the What We Heard Report and LEARN MORE >>
---
FireSmart
(TM)
FireSmart is about increasing community wildfire resiliency. The Sooke Fire-Rescue Department is launching a FireSmart Program to help educate and support residents to reduce wildfire risk on their property and within the community. Over time, FireSmart principles have shown to be effective at reducing the risk related to losses in most extreme wildfire conditions.
10 FireSmart Steps to Start Today:
Move firewood 10–30 metres from your home.
Clean your roof and gutters of leaves & pine needles.
Have a wildfire evacuation plan with your household.
Regularly cut and maintain grass (less than 10 cm tall).
Trim and prune any trees or vegetation that overhang your roof.
Take inventory of what kind of trees grow on your property. Some trees are more flammable such as pine where trees that are more resistant to fires are birch and aspen.
Everyone in your household should knows where the gas, electric, and water shut off valves are during an emergency.
Assess your roof and chimney. Is your roof clean? Do you have a spark arrestor? Having a clean, protected roof can significantly improve the chances of the entire structure surviving.
Relocate propane tanks 10-30 meters from your home.
Conduct a full FireSmart assessment of your home and property by downloading the FireSmart Homeowner's Manual to assess and FireSmart your home.
Get Prepared
3. Prepare your home.
FireSmarting your property will dramatically decrease the risk of wildfire burning down your home. The sparks and embers from a wildfire can travel up to 2 km which can ignite materials close to home. The following FireSmart guidelines can help assess and protect your home and minimize your wildfire risk.
---
FireSmart Information Sessions & Home Assessments
FireSmart Information Sessions
In these 90-minute sessions learn about the FireSmart program, including:
wildfire risk and behaviour;
the wildland interface zone;
how to protect where you live (home and property) and;
how we all can increase community resiliency.
When:
Please check back for new dates.
Where: Virtual (MS Teams), a link will be provided by email
Advanced registration required:  When dates are posted, please call Sooke Municipal Hall at 250.642.1634 or Sooke Fire Hall at 250.642.5422 to register.
FireSmart Home Assessments
Through this complimentary service for residents, our FireSmart Coordinator will conduct an on-site assessment and create an action report of steps you can take to FireSmart your home and property.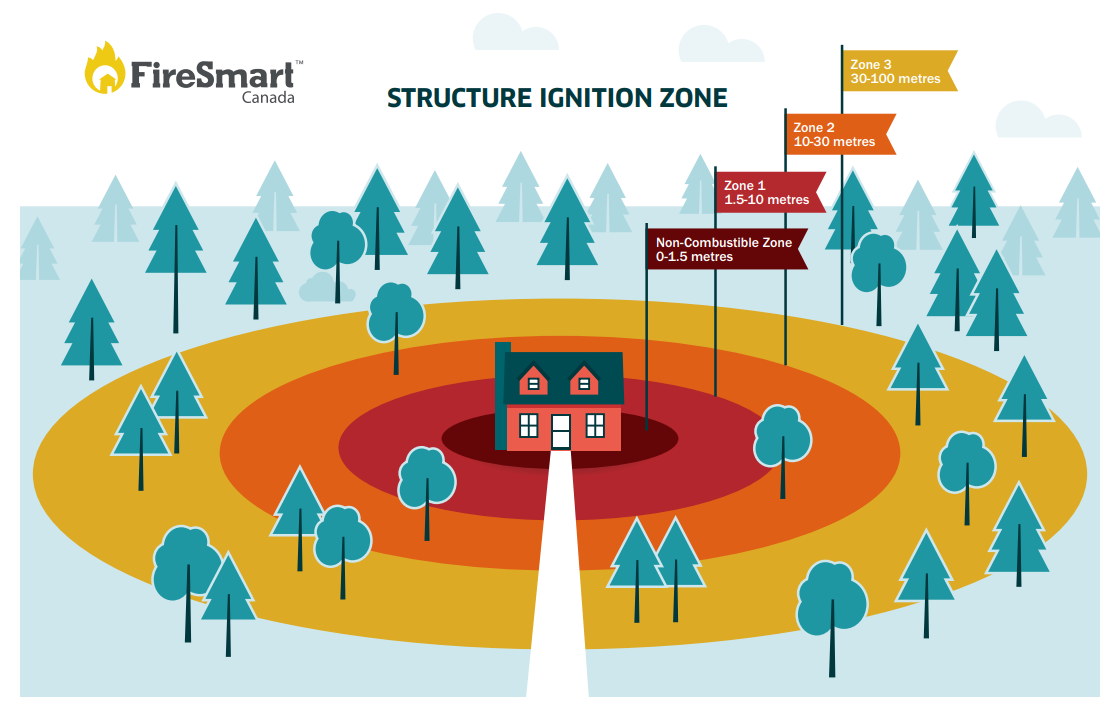 FireSmart Property Assessments provide residents:
An in-depth, on-site assessment conducted by experienced fire professionals;
An opportunity for property owners to identify mitigation actions unique to their property;
A detailed follow up report with customized mitigation actions designed to measurably reduce the wildfire risk to your property;
An opportunity to earn FireSmart Home Partners certificate acknowledging your mitigation achievements. The certificate is given upon successful completion of required mitigation actions and an on-site follow up inspection.
---
Learn More
---
Contact Us
Call the Sooke Fire Rescue Department and ask for your local FireSmart Coordinator.
Phone: 250-642-5422
Email: firedepartment@sooke.ca
2205 Otter Point Road, Sooke, BC, V9Z 1J2