Councillor Jeff Bateman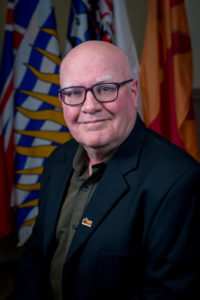 Jeff Bateman was elected to the District of Sooke Council in 2018 and re-elected in 2022.
Jeff was born in Ontario to a career military father and homemaker mother. At Carleton University in Ottawa, Jeff met his wife Carolyn while they were both studying journalism. They followed their respective careers to Toronto, Vancouver and Victoria before finding a Whiffin Spit home in 2003 as the base for their work as writers and editors.
Jeff spent more than three decades as a staff and freelance writer with a focus on corporate copywriting, music industry journalism and tourism marketing. He became active in local volunteerism a decade ago as a founding board member of the Sooke Transition Town Society, through which he helped launch the working groups Zero Waste Sooke and the Sooke Region Multi-Belief Initiative. He was also a co-founder of the Sooke Farmland Trust Society and has served two terms as president of the Edward Milne Community School Society.
Among other local positions, Jeff was on the steering committees of Wild Wise Sooke and the Sooke chapter of Dogwood BC, chaired the District's Climate Change Action Committee and sat with the District's Community Center Advisory Committee.
Jeff enjoys cycling, yoga, meditation, reading, hikes to Mystic Beach and informal wild mind conversational circles at local coffee shops.
Council Appointments: 
Vancouver Island Regional Library Board
Victoria Family Court & Youth Justice Committee
Capital Regional District Board (Alternate)
Capital Regional Hospital District Board (Alternate)
Capital Housing Corporation (Alternate)
Capital Regional District Arts Commission (Alternate)
Sooke & Electoral Area Parks and Recreation Commission (SEAPARC) (Alternate)
Sooke Region Community Health Network Age-Friendly Committee – Liaison (2021)
Contact Councillor Bateman: