Friday, October 2, 2020 – Summer 2020 marked the completion of Phase 1 of DeMamiel Creek (Little River) Crossing and with attention turning to phase two, welcome news of a $700,000 cost-savings been engineered within this next scope of the project that is being coordinated in partnership with School District 62.
Phase two will include 600 metres of gravel multi-use trail and a bridge to connect the Sunriver neighbourhood with Sooke's town centre. The original design included a steel-bridge that has been re-engineered for an aluminum structure, both carrying a similar lifecycle. "Through value-added engineering, slight modifications to the trail alignment minimize retaining wall infrastructure, and the change of aluminum bridge materials allow costly access issues to be resolved – combining for considerable cost-savings," shares Laura Hooper  Manager of Parks and Environmental Services.
As for the next steps on this exciting project, grant applications will be submitted in October. "Leveraging available funding opportunities means we should hear back next summer (2021). Careful planning of the environmental considerations have us looking towards a spring 2022 construction start and spring 2023 opening," Hooper adds while enthusiastically sharing the project is a collaboration with many partners. "We hope to provide employment for the T-Souke Nation to assist with cultural interpretation.  As well, Poirier Elementary and Journey Middle School students will be involved in creating environmental interpretative signage."
Known as "Little River" by the T'Sou-ke Nation, DeMamiel Creek runs from high in the Sooke Hills, passing through the areas of Pascoe Road, Helgesen Road, and between Sunriver and Poirier Elementary/Journey Middle school, before joining the Sooke River near the Sooke River  Campground.
Media Contact:
Christina Moog, Communications Coordinator
Tel: 250.642.1634, ext. 678
Email: cmoog@sooke.ca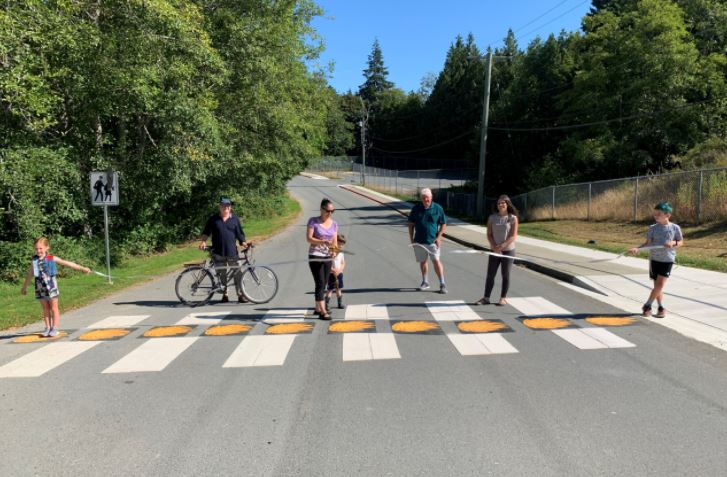 Poirier Elementary School students join Sooke Mayor and Councillors for the opening of Phase 1 of DeMemial Creek (Littler River) Crossing. The students helped design the sun-lit crosswalk, providing them with a safe way to walk to school.