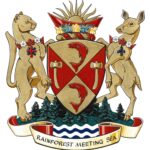 NOTICE IS HEREBY PROVIDED
OF A
SPECIAL COUNCIL & COMMITTEE OF THE WHOLE MEETING
Special Council Meeting
To Be Held: Monday, September 16, 2019 at 7:00 p.m.
Purpose: Public Hearings; one (1) Official Community Plan Amendment, two (2) Zoning Amendments and one (1) Temporary Use Permit.
Committee of the Whole Meeting
To Be Held: Tuesday, September 17, 2019 at 2:00 p.m.
Purpose: Discussion on the 2019-2022 Council Strategic Plan.
Meetings will be held at the District of Sooke, in Council Chambers, at 2225 Otter Point Road, in Sooke B.C.