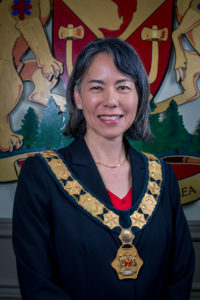 Tuesday, November 22, 2022 – Thank you, Sooke. I am extremely grateful and humbled to be serving a third term as your Mayor. It is an honour to continue this work on the traditional territory of the T'Sou-ke and Scia'new Nations.
As this new term begins, I wish to recognize and express my appreciation to many in the community:
My family for their support and encouragement.
All candidates who participated in the 2022 local government election – thank you for your contributions to our local democracy.
Thank you to outgoing Council member, Ebony Logins – congratulations to her on her successful School Trustee campaign. I look forward to working with Trustee Logins, alongside Council and all School District 62 Trustees including Milne's landing representatives Amanda Dowhy and Alison Watson, for the betterment of families and children in Sooke.
Many thanks to our Juan de Fuca neighbour Mike Hicks for his service. Congratulations and welcome to Al Wickheim.
Please also join me in welcoming our Council team: Councillors Bateman, Beddows, Lajeunesse, McMath, Pearson and St-Pierre.
Together, we carry immense responsibility to lead our community through challenging times – emerging from a global pandemic, navigating a health crisis, and a climate crisis with wildfires, atmospheric rivers and heat domes. There is a severe impact on mental health from a poisoned drug supply, affordability, and a housing crisis… one state of emergency after another it seemed.
Through all of this, Sooke continued to be one of BC's fastest-growing municipalities and was recognized as one of BC's Most Resilient Cities.
Change is happening all around us. How we work with, manage and embrace change to further enhance our resilience is some of the work before us.
We have some work left unfinished from the last term, such as adopting a new Official Community Plan (OCP). The OCP is our guiding land use document and a critical tool for managing our growth and responding to the needs of residents and realizing our vision of a small town with a big heart, cradled in the stunning beauty and vitality of the ocean and forest.
To successfully reach the milestone of adopting a new OCP, we need to continue to work with our building and development community to ensure clarity, consistency and reasonable administrative processes to help us realize the community's shared vision. We know where we need to go, but we need to find a common path forward to execute how we are going to get there.
Just a few weeks into the new term, I am pleased to share this Council team has hit the ground running. I have already met with Honourable Nathan Cullen, Minister of Municipal Affairs, School District 62, Royal Roads University, other elected leaders, and continued meeting with Island Health to advance local health care.
I will be keeping you informed about the work of Council and District activities through regular messages to the community. I also invite you to subscribe to the district's monthly newsletter as a great way to stay connected or call us at 250.642.1634.
Please also be sure to check out the District's event calendar to find a host of local festivities, especially as the holiday season is upon us. My thanks to the numerous volunteers who make all of these wonderful events possible!
There will be many more opportunities to connect with your Council this term, please stay tuned.
On behalf of Council, thank you. We are so very grateful to be a part of the focused work and effort as we write this next chapter in Sooke's history. One, that I hope in four years, we reflect upon with pride in our service to you, the citizens of our community.
Kindest regards,
Mayor Maja Tait