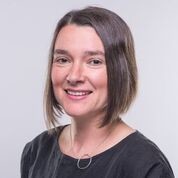 Thursday, August 31, 2023 – Emma is an experienced Land Use Planner, skilled in park planning, active transportation, community engagement, and land use and environment policy. She holds a Master of Arts (MA) focused in Geography from the University of Victoria and joins the District of Sooke after sixteen years with the Capital Regional District.
Working at the Capital Regional District, Emma served the region in numerous positions – including Park Planner, Land Use Planner, Trail Planner, and Transportation and Health Initiative Coordinator.
Emma will be leading the Parks and Environmental Services Area of the District of Sooke Operations, starting on Wednesday, September 6, 2023.
Please join us in welcoming Emma to the team and our community!
"I am thrilled to be joining the District of Sooke at such an exciting time in the community's development!" – Emma Taylor