Wednesday, November 1, 2023 – In collaboration with local community partners, Farm to School BC (F2SBC) works to empower and support schools in building comprehensive farm-to-school programs that support vibrant, sustainable, regional food systems, develop student food literacy, and enhance school and community connectedness. In Sooke, this opportunity was expanding thanks to funding from the District of Sooke Community Climate Action Seed Funding Program.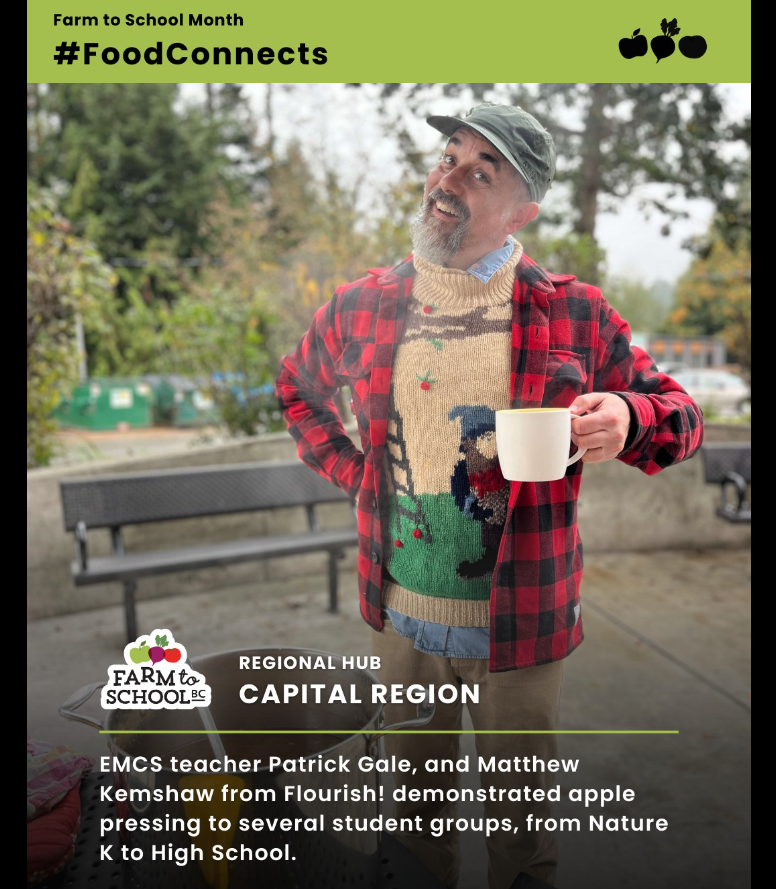 Patrick Gale received $4,040 for his project "Growing Community in the Edward Milne Community School Garden" which helped him reach 200 students and more than 60 community members through several initiatives taking place in recent weeks.
Such events included:
Hosting a public apple pressing and tasting session with locally gleaned apples from heritage trees and discussing local food systems change;
Hosting Nature Kindergarten and EMCS garden workshops with assistance from community volunteers;
Planting winter cover crop and saffron bulbs with community volunteer support (with garlic planting taking place later this week);
Starting to winterize gardens with some community volunteer support;
Collaborating with EMCS Society Cultural Community Kitchen to host two community cooking sessions with garden-grown produce;
Collaborating with Flourish! School Food Society to support community learning and engagement; and
Harvesting over $1000 worth of school-grown produce, which in turn supports student and community food security!
Now, Patrick is looking to the next season of workshops and working days for early 2024 which he sees will include a seed exchange, garden planting, introduction to permaculture, water and soil management, and much more!
Stay informed about local climate action initiatives that are building connections and community through sustainable practices at letstalk.sooke.ca/sooke2030.