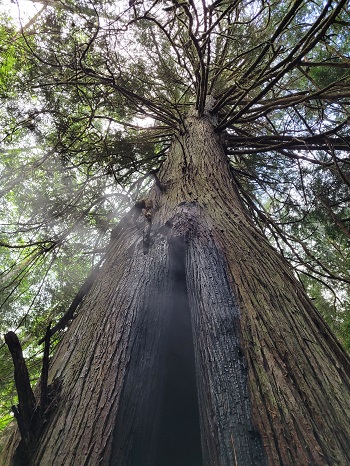 Wednesday, May 31, 2023 – The District is sharing the following from the Sooke RCMP:
In the early morning hours of May 30, 2023, Sooke Fire Rescue responded to a series of fires along the Galloping Goose Trail, west of Sooke River Road.
On scene, firefighters located two separate fires: a brush fire involving an 8 foot x 8 foot area and a fully involved tree, consumed by fire reaching approximately 25 feet up. Thanks to the quick and professional response by Sooke Fire Rescue, the fires were extinguished before spreading to the vast forests in the area.
Given the nature of the fires, Sooke Fire Rescue notified the Sooke RCMP who initiated an arson investigation. Through the investigation, it was determined that the fires were intentionally set and based on evidence and observations on scene, a suspect was identified. Later that day, a 28-year-old woman, of no fixed address, was located and arrested.
The joint efforts of Sooke Fire and Sooke RCMP are to be commended, says Mayor Maja Tait.
Any time, but particularly during the unseasonable dry conditions, the risk of a forest fire is high, shares Sooke Fire Chief Ted Ruiter. The current danger rating is high in Sooke which means fires can start easily and challenge fire suppression efforts. The timely response of the career staff, as we transition to a 24/7 resource model, helped ensure the best outcome of this event, Ruiter adds.
I'm proud of the combined efforts of the District of Sooke's Community Safety Team and appreciate the public's assistance in providing us with information, Sooke RCMP Sergeant Kevin Shaw notes.
Anyone in the area of the Sooke Potholes / Sooke River Road / Galloping Goose Trail on May 30, 2023, between the hours of 5:00 a.m. to 6:00 a.m. that witnessed anything suspicious are asked to call the Sooke RCMP.
Released by
Cpl. Alex Bérubé
District Advisory NCO (Media Relations)
Island District
2881 Nanaimo St, Victoria, BC V8T 4Z8
Office: 250-380-6110
Cell: 778-836-8153
Email: alex.berube@rcmp-grc.gc.ca