A review of the Official Community Plan (OCP) requiring community engagement.
Call for participation from the business community.
The District of Sooke is launching a review of its OCP. It is important that the entire community is engaged in this process. The OCP reflects the community's values and priorities so that we can shape our future growth in a way that is sustainable and provides a high quality of life for current and future residents.
One mechanism for engagement that the District is considering is COMMUNITY SOUNDING BOARDS. Is your business interested/available to display a sounding board? Continue reading to learn more.
Looking to learn more? Please visit our Picture Sooke hub: sooke.ca/ocp
---
What is a sounding board?
A sounding board raises awareness about the Picture Sooke project and allows people to provide input "in the moment". The board is placed on easels and sticky notes are left for residents to provide comments.
Why should my business display a sounding board?
In addition to providing a valuable role in the Picture Sooke project, the District will highlight your business on the project web page and provide at least one mention to its 1,991 followers on Twitter.
What will the impact on my business be?
There should be a minimal impact, if any, with the boards being displayed for a three-week period. If at any point, you determine the board is not conducive please simply contact Christina Moog, District of Sooke Communications Coordinator, by phone at 250.642.1634 ext. 678 or email at cmoog@sooke.ca to have the board removed.
When will the board be displayed?
The visioning boards were displayed October 27, 2020, to November 5, 2020. The GROWTH SCENARIO boards will be displayed early in 2021. While dates have not yet been finalized, we anticipate the boards to be available on/around February 2021.
Are you able to host COMMUNITY SOUNDING BOARD?
If so, please email cmoog@sooke.ca and include:
Business name:
Primary name:
Primary phone:
Primary email:
Business location:
Business hours of operation:
Last updated: November 9, 2020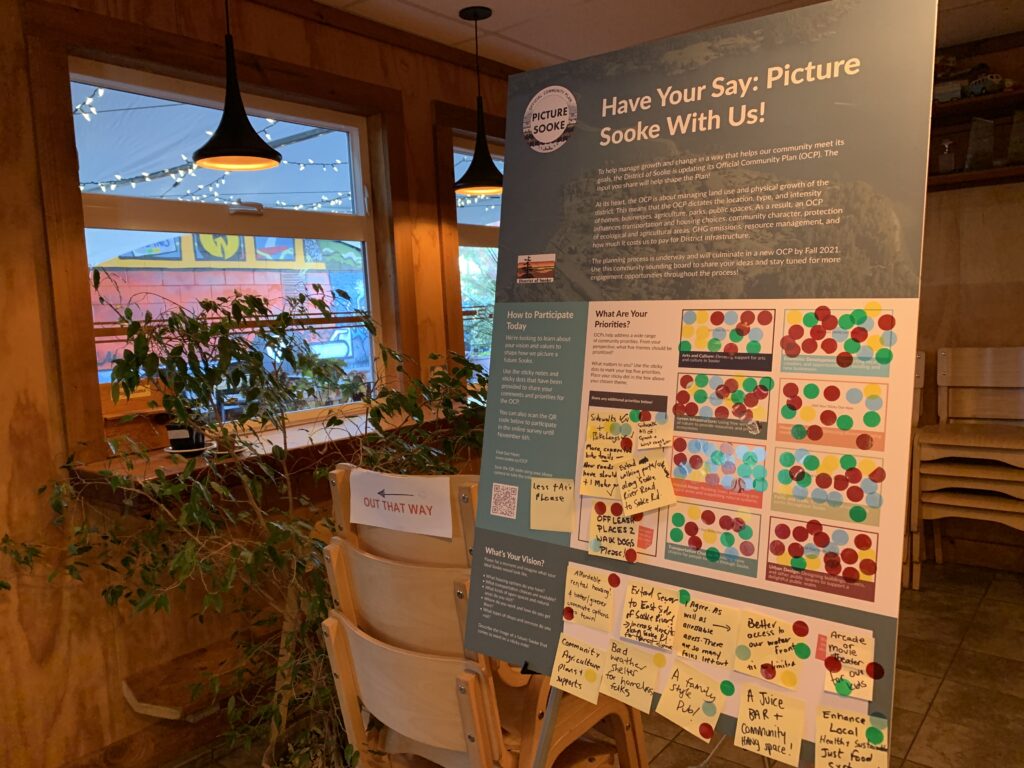 Pictured: Community input is received through a sounding board displayed at The Stick in the Mud during the Community Visioning phase of engagement, October 27, 2020 to November 5, 2020.