District of Sooke Logo and Coat of Arms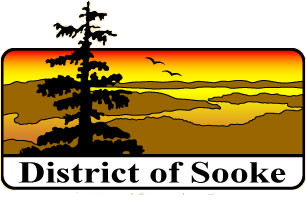 The District of Sooke logo and Coat of Arms proudly reflect elements of living on the West Coast and the history of the community. The District of Sooke logo was beautifully designed by a Sooke resident to portray an evening sunset over the Sooke Harbour and Basin.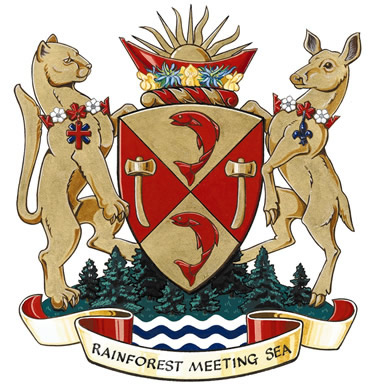 Armorial Bearings of the District of Sooke were granted by the Chief Herald of Canada on September 16, 2002.
Arms (Shield)
The red and gold of the arms are the colours of Royal Spain and hence refer to the first European contact. Gold also symbolizes the wealth derived from the historically important industries of fishing and forestry which are represented by salmon and axes, and refers to the Leech River gold rush. The diagonal design of the arms echoes the basic division of the flag of Scotland and represents the Scottish who were the first European settlers in Sooke.
Crest (above the shield)
The canoe honours the people of the T'Sou-ke First Nation and their traditional lifeways. The sun refers to the sunset over the ocean as well as the sun in the flag of British Columbia. The camas was an important plant to the First Nation and the broom refers to Captain Grant, the first European settler.
Motto
At the base of the design, "RAINFOREST MEETING SEA" is a shortened version of "Where the Rainforest meets the Sea."
Compartment and Supporters
The compartment is a visual representation of the theme "Where the Rainforest Meets the Sea. The cougar is an important native animal and its collar refers to Sooke being a Canadian municipality in British Columbia. The pendent crosses are of England and Scotland, referring to British settlers. The deer is also an important native animal, while the fleur-de-lis refers to French Canadian settlers. The animals stand and the shield rests on a mound set with Douglas Firs rising above the sea.