Wednesday, January 20, 2021, 11:10 a.m. – Have a look at the before and after of the work completed at Whiffin Spit Tuesday!
We're sending out a huge community thank you out: the tremendous efforts of the District parks crew and Victoria Contracting, and the cooperation from the community made this possible. While Mother Nature threw a few rocks in our path, the collaborative efforts of all are allowing many residents to, once again, safely enjoy this cherished park. Thank you, Sooke!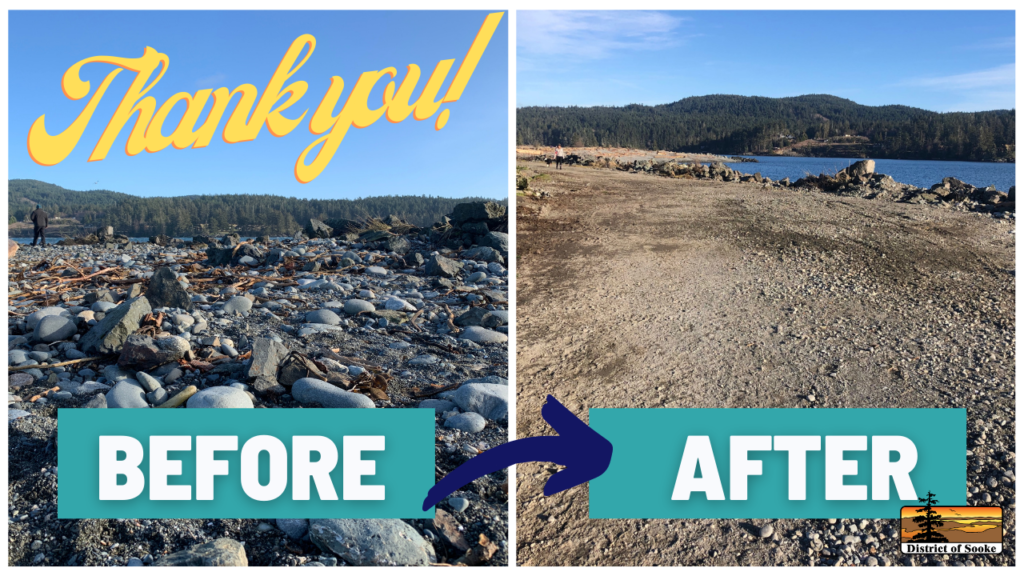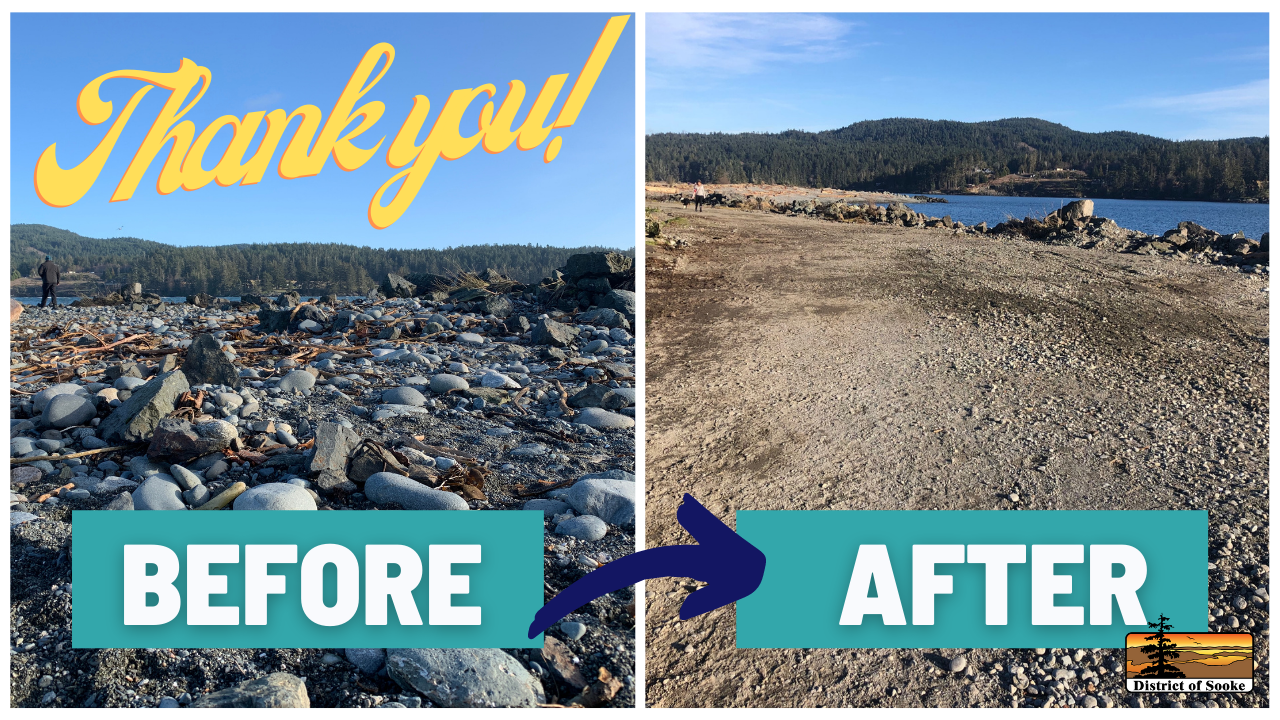 ---
Monday, January 18, 2021 – Clean up continues following last week's windstorm.
Crews will be on-site at Whiffin Spit on Tuesday, January 19th from 8:00 a.m. to 4:00 p.m. While the park will remain open during the clean-up, assistance from the public is required as:
the parking lot will be closed from approximately 8:00 a.m. to 10:00 a.m. to clear the substantial debris, including large rocks, that have washed into the lot.
pets must be on leash when the work is being completed. This is for the safety of our four-legged friends and to assist machinery operators.
caution is required when navigating around the equipment. Staff will be on-site to assist with traffic control, please give equipment operators space in the area they are working.
If possible, please consider enjoying one of many of our other outdoor spaces while the Whiffin Spit clean up is underway.
Parks and Environmental Services Coordinator Jessica Boquist shares, "We know what a cherished asset Whiffin Spit is to our community and how important, especially this year, our parks are outdoor spaces are to the public. Our team is working hard to manage debris and the winter weather impact at Whiffin Spit as best as we are able."
The public visiting the popular park are advised to expect an uneven trail surface throughout the winter, even with these efforts. "Generally, the public should expect the trail to function as a nature trail until enhanced maintenance can be completed in full at the end of the season," says Boquist.
Again, the District thanks the public for their patience, cooperation and assistance as crews respond to the effects of the significant weather event.
Contact:
District of Sooke Parks
Tel: 250.642.1634
e: parks@sooke.ca