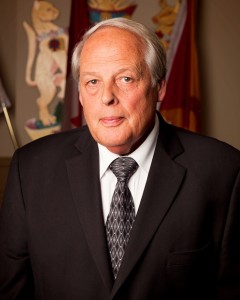 Rick Kasper was elected to District of Sooke Council in 2005, 2011 and 2014.
Rick has lived in Sooke since 1992. He is a retired bricklayer and stone mason who operated a small business for many years.
He first got involved in politics and was active in the Glen Lake Ratepayers Association in the 1970s. He also served as the CRD Director for Langford from 1981-1990, where he helped plan and worked to create the Galloping Goose Regional Trail, region-wide blue box recycling, Island Highway improvements, low-income housing and local beautification projects.
In 1991 he was elected to the BC Legislature and served as MLA for Malahat-Juan de Fuca for 10 years. During this time he headed a review of legislation governing manufactured homes, worked to get three new schools built in Sooke, helped get funding for the SEAPARC Leisure Complex and Juan de Fuca Marine Trail, and fought to protect funding for the Sooke Women's Transition House.
He has supported and volunteered for local community organizations including Sooke Minor Hockey and Sooke Minor Fastball.
Rick makes his home in Saseenos with his wife Doni and son Aaron.