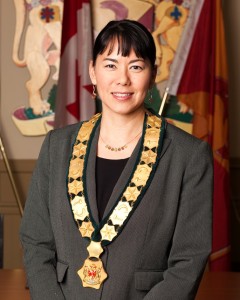 Maja Tait was first elected to Sooke Council in 2008, served two consecutive terms on Council before being elected as Mayor in 2014.
December 1, 2014 – Mayor's Inaugural Address
Maja was raised in the hamlet of Bragg Creek, Alberta and lived in both Japan and Calgary before moving to Vancouver Island in 1997.  Attracted to Sooke's natural setting and community spirit, Maja moved to Sooke with her husband Alex in 2006.
In addition to her ongoing career in property management, Maja has been a dedicated community volunteer and served with organizations like Girl Guides of Canada, the Craigdarroch Castle Museum Society and the Victoria Women's Sexual Assault Centre.  Maja, also a former Toastmaster, completed the Leadership Victoria program in 2006 and was awarded the prestigious Alumni Award in 2015.
Maja's international heritage has taken her abroad to places like India, Europe and Singapore and she continually enjoys global adventures with her husband.
Weekends will find her enjoying quiet moments in her garden and exploring the Sooke hills via mountain bike.
From the Desk of the Mayor (Quarterly Letters)
FROM THE DESK OF THE MAYOR 2015 – April 2015
FROM THE DESK OF THE MAYOR 2015 – October 2015