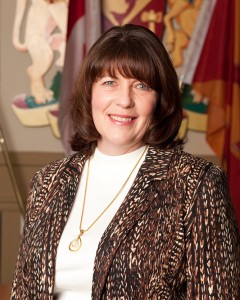 Kerrie Reay was elected to the District of Sooke Council in 2011 and 2014.
Kerrie was born and raised in Calgary, Alberta. She moved to BC in 1981 to further her education. She completed her degree at Simon Fraser University in 1984, attaining a Bachelor of Arts in Criminology and was admitted to the University Honour Roll for outstanding academic performance.
Kerrie started working for the BC Corrections Branch in January 1985, with her first posting to Terrace as an Adult and Youth Probation Officer and Family Court Counsellor. At the age of 26, she became one of the youngest Local Managers in the province, managing the delivery of services from Terrace to the Yukon border. In the summer of 2003 she transferred to the Chilliwack Community Corrections office. In 2007, Kerrie accepted a position as a Project Manager with Corrections Headquarters in Victoria, moving to Sooke in June of 2008.
In April 2010, Kerrie was awarded the Governor General of Canada Medal for Exemplary Service in Corrections and in October 2014, along with her colleagues, received the BC Premier's Award for Organizational Excellence.
Kerrie's community service has been varied over the years. While fundraising for many charities she was primarily involved with the Canadian Cancer Society, particularly with the Terrace Cancer Support group and coordinated the Cancer Emergency Aid program for Terrace. Kerrie continues to work with funding raising events to support the homeless in Victoria and until recently was a Director with the Sooke Seniors Diamond Jubilee Housing Society.
Kerrie and her husband Robert enjoy the small town lifestyle that Sooke offers. Their pets have been a huge part of their lives, many of which have been adopted or rescued. Currently they have an English Mastiff, Loxley and two cats Masset and Charlotte.