Wednesday, October 28, 2020 – Today, at the Sooke Legion Cenotaph, Mayor Tait was honoured to receive the pinning of the first poppy to symbolize the official start of the annual poppy fundraising campaign.
"This is a small way to recognize those have served, are continuing to serve – and their families," Mayor Maja Tait shares. "The poppy is a symbol of both Remembrance and hope for a peaceful future. I am grateful to be a part of recognizing our veterans through this ceremony."
The Poppy Campaign, which officially begins at noon on Thursday, October 30th, is staffed entirely by volunteers through the Canadian Legion. Funds provide financial assistance to serving and former Canadian Armed Forces and their families who are in need. To contribute to this year's campaign, donate through the British Columbia and Yukon Branch of the Royal Canadian Legion at legionbcyukon.ca. Poppy taggers will also be collecting donations in Sooke at the following locations:
Coast Capital Savings
Home Hardware
BC Liquor Store
Western Foods
Village Foods
Shoppers Drug Mart
"Poppies will be placed on a table for those wishing to make a donation to allow our volunteers to remain physically distanced," President of Branch 54 of the Royal Canadian Legion in Sooke Richard Steele notes. Steele also shares that the Legion is short on volunteers this year. Community members who are able to contribute time in a 2-hour shift are asked to email poppyrcl54@gmail.com.
The Sooke Legion's Remembrance Day Service this year will take place in a virtual format due to COVID-19. The service will be broadcast live on the branch's Facebook page. All members of the community are encouraged to participate.
First observed in 1919, "Armistice Day" commemorated the armistice agreement that ended the First World War on Monday, November 11, 1918, at 11 a.m., the eleventh hour of the eleventh day of the eleventh month.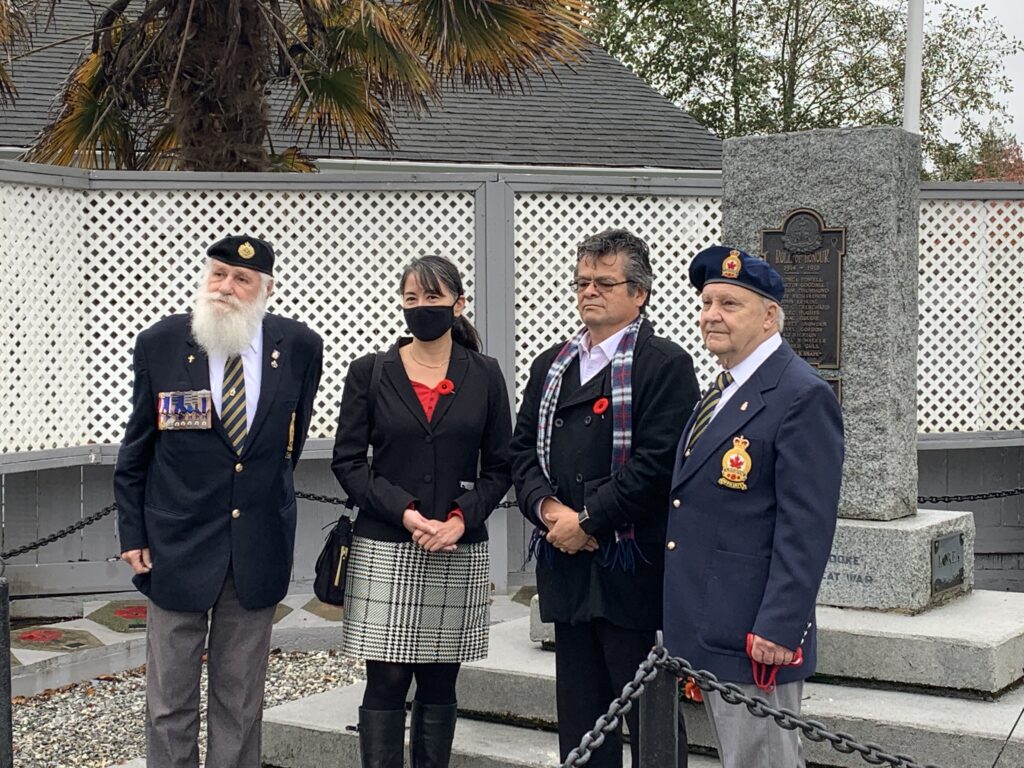 President Royal Canadian Legion Branch 54 (Sooke), Richard Steele (left) and Mr. Al Stuart (right) present poppies to Mayor Maja Tait and Chief of the T'Sou-ke First Nation, Gordan Planes to launch the 2020 Poppy Campaign.