NEWS RELEASE
OCTOBER 7, 2016
In May of 2016, the community of Fort McMurray was devastated by a terrible wildfire. Entire neighbourhoods were destroyed and residents were forced to flee, leaving behind their homes, their possessions, and their sense of security.
As a community with an incredible spirit and sense of giving, many residents of Sooke donated to the Fort McMurray relief efforts. A firefighter's boot was placed at the front desk of the municipal hall to collect donations and District of Sooke Council resolved to match donations received. In total, $1,186.06 was collected, and a total donation of $2,372.16 was sent to the Canadian Red Cross on behalf of the people of Sooke.
"The people of Sooke are kind, generous and supportive of those in need" said Mayor Maja Tait. "Council is proud of this fundraising effort and commitment to helping build community":
The Canadian Red Cross has recently recognized Sooke's donation with a certificate of thanks.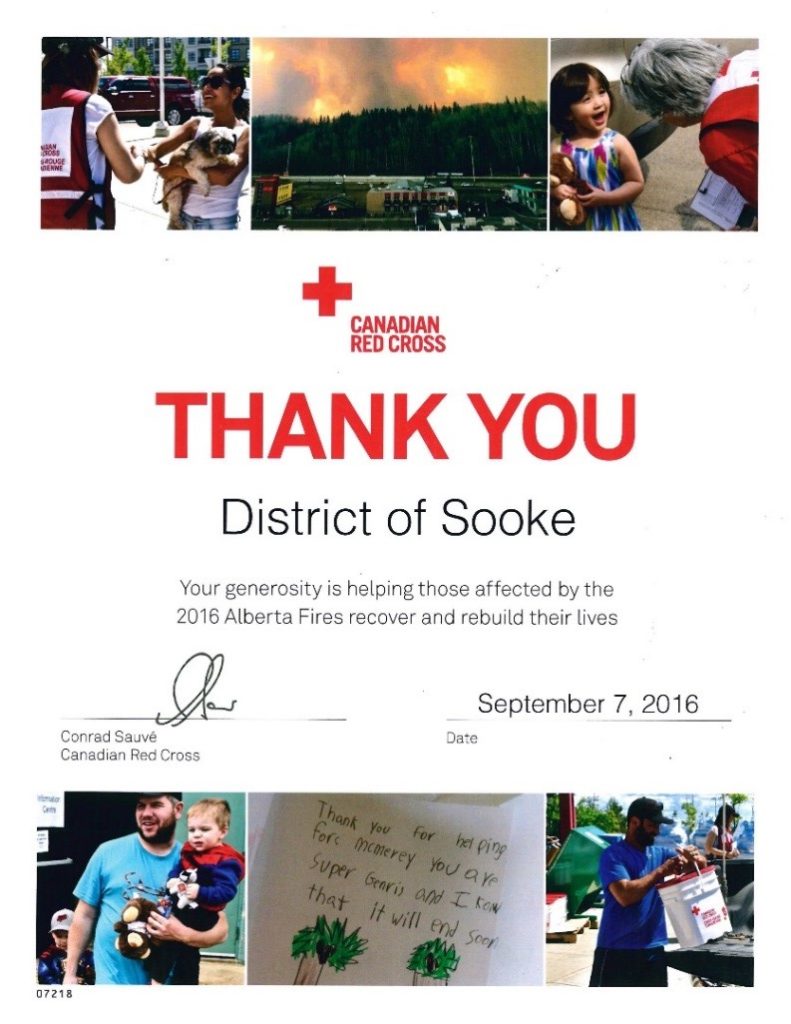 Further information about the Fort McMurray relief efforts can be found on the Canadian Red Cross website at: www.redcross.ca
Media Contact:
Teresa Sullivan
Chief Administrative Officer
District of Sooke
Tel: (250) 642-1634
Email: tsullivan@sooke.ca