Wednesday, November 25, 2020 – Though we cannot gather together for events such as the Sooke Santa Parade as in previous years, the tradition of lighting up the night as a community will continue. Sooke residents are invited to help us light the night by turning on their home and business Christmas lights as the roundabout lights are turned on December 1st.
Mayor Tait comments on her personal experience, sharing she has hung her holiday lights a little earlier than usual this year. "It is a small way to bring joy to others – literally and figuratively brightening someone's day. It warmed my heart as well. And, admittedly, I did garner a sense of accomplishment navigating the ladder."
We invite residents to light up where you live to help illuminate spirits during these challenging times. We would love to see photos of your decorations; please share your photos online and be sure to include #SookeSpirit as a means for our community to join together virtually.
A video showcasing the lights and decorations throughout the community will be shared online (YouTube, this web page, and The District of Sooke Twitter feed) on December 11th so Sooke can enjoy the view safely and from the comfort of their own homes.
District holiday lights, including the "Legion tree" will remain on until January 4th, 2021. Each week leading up to Christmas a new wonder of Sooke and opportunity to experience the warmth of the season in a safe and responsible way will be shared through the District website.
Related:
Media Contact:
Christina Moog, Communications Coordinator
Tel: 250.642.1634, ext. 678
Email: cmoog@sooke.ca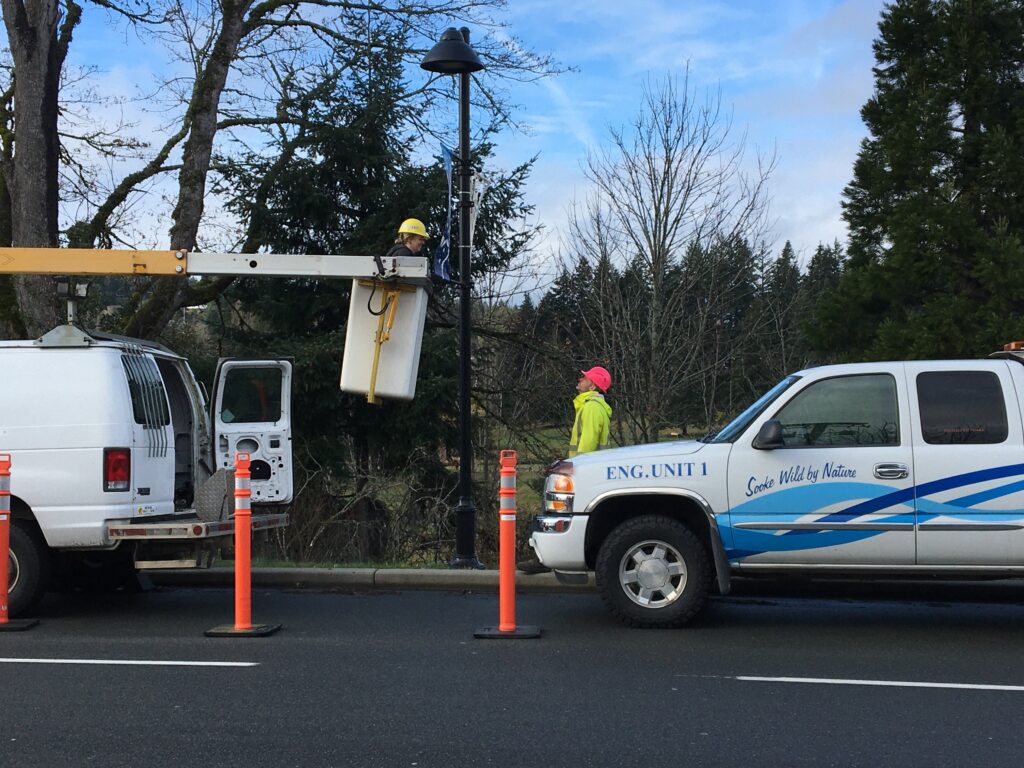 Parks staff are all smiles as they welcome the opportunity to bring the holiday spirit to the community with the hanging of festive décor on light standards