The Fire Danger Rating was lowered to "MODERATE" on September 15, 2020. Subsequently, there are no current limits on high-risk activities, as noted below.
September 9, 2020
[Sooke, BC]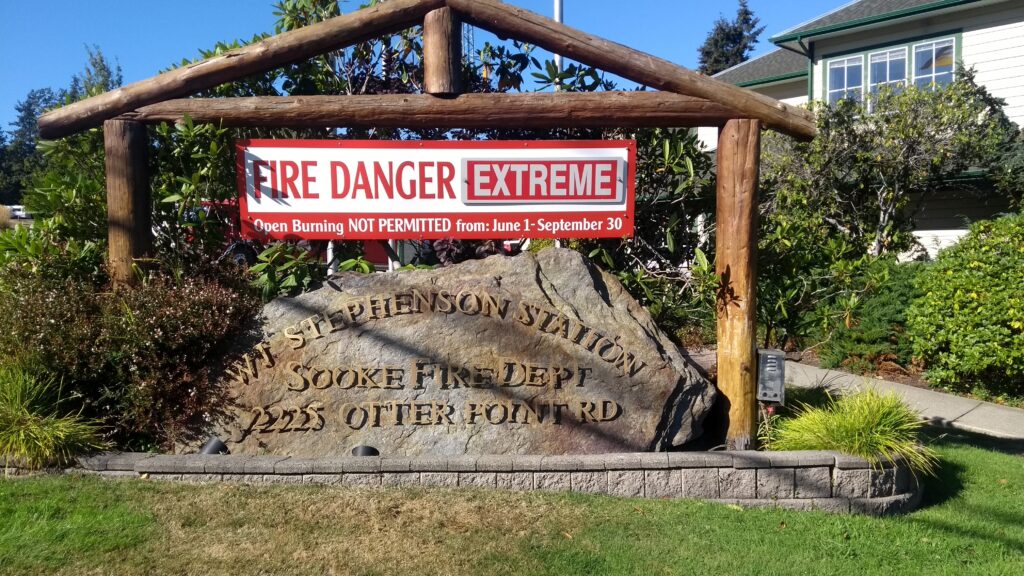 As a result of the recent weather forecast and Wildfire Situation Report, Sooke Fire/Rescue is elevating the Fire Danger Rating in the District to Extreme.
"Extreme Fire Danger" is defined as: extremely dry forest fuels and the fire risk is very serious. New fires will start easily, spread rapidly, and challenge fire suppression efforts. During Extreme fire rating conditions, and in adherence with the Wildfire Act (Wildfire Regulation, Section 6), please be advised that high-risk activities, on or within 300m of forest land or grass land, are not permissible within the District of Sooke between 1:00pm and sunset each day (must patrol/fire watch for 2 hours after conducting high-risk activities).
What is a high-risk activity? In the Wildfire Regulation, high-risk activities include (but are not limited to) the following:
(a) mechanical brushing;
(b) disk trenching;
(c) preparation or use of explosives;
(d) using fire- or spark-producing tools, including cutting tools;
(e) using or preparing fireworks or pyrotechnics;
(f) grinding, including rail grinding;
(g) mechanical land clearing;
(h) clearing and maintaining rights of way, including grass mowing (specifically, flail mowers – personal lawn mowing is still permissible).
These efforts aim to prevent human-caused wildfires and structure fires, protect our natural environment and ensure public safety. Thank you for keeping our community safe. Please report any fires directly to 911, and any unauthorized activity that poses a risk of fire, to the Sooke Fire Department at 250.642.5422.